I am a person who feels guilty for crimes I have not committed.. The police search the train station for a criminal at large* and I cover my face with a newspaper, wondering if maybe I did it in my sleep. The last thing I stole was an eight-track tape, but to this day I'm […]
Fear is the physical, mental, and emotional reaction to a threat that is present or imminent. Anxiety is caused by imagining threats or possible future danger. Our threat perception can be rational and reasonable or wildly disproportionate and unrealistic. However, our brains have difficulty telling the difference between real and imagined threats.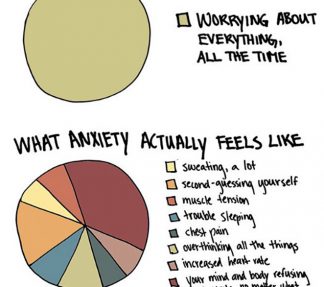 Because anxiety is an emotion that is experienced not only in our minds (stories we tell ourselves, mental images), but also through our feelings (dread, fear), and in our bodies (racing heart, tense muscles), the following targets these three areas.